A few months ago i picked up this book at a second-hand bookstore for some holiday reading. The book was called Hearts Blood by Australian author Juliet Marillier (Go Aussies!). Once i started i couldn't put it down and although i had only read one of her books she quickly became one of my favorite authors.
Marillier is (in my opinion) a master of fairy tale retelling. Hearts Blood is a beautiful retake on Beauty and the Beast but a much more interesting, dark and original version.
It is about a girl who is running away from her terrible past and acquires a job as a scribe at a cursed and haunted castle at Whistling Tor. Many of the villagers are scared and speak of their Chieftain with much bitterness, disgust and fear. But for the young girl, Caitrin, it is a safe haven and refuge from the demons she's running from.
Love, action and fantasy! A truly great read from beginning to end.
"He was seated on the bench now. He had his left elbow on his knee, his right arm across his lap, his shoulders hunched, his head bowed. White face, red hair: snow and fire, like something from an old tale. The book I had noticed earlier was on the bench beside him, its covers shut. Around Anluan's feet and in the bird bath, small visitors to the garden hopped and splashed and made the most of the day that was becoming fair and sunny. He did not seem to notice them. As for me, I found it difficult to take my eyes from him. There was an odd beauty in his isolation and his sadness, like that of a forlorn prince ensorcelled by a wicked enchantress, or a traveller lost forever in a world far from home." 
― Juliet Marillier, Hearts Blood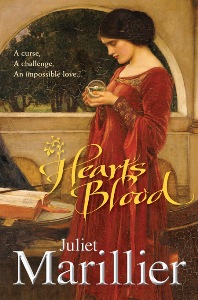 After reading Hearts Blood i HAD to have more! Although this is a stand alone title Marillier has many more beautiful books she's written to keep us going. The next book i started reading of hers was Daughter of the Forest. If i thought i loved Heart's Blood it doesn't even compare to how much i enjoyed the Sevenwaters series and before i had even  finished the book i quickly ordered in the rest of the books. The first book, Daughter of the Forest, is based on a Germanic Fairy Tale, The Six Swans from the Brother's Grimm collection as well as The Wild Swans in Hans Christian Andersen's version
I am a HUGE fan of fairy tales and especially when i come across a retelling of it. This one beats any other I've ever read and although it is based loosely on a Germanic Fairy Tale Marillier has set it in beautiful Ireland.
So a little about the story (I've tried not to include any spoilers!)…
Sorcha, the youngest child of seven and the only daughter of Lord Colum of Sevenwaters, lives a peaceful life with brothers who adore and protect her yet a father who cannot look at her because she reminds him of his late wife.  Then when Lord Colum decides to take a new wife, the Lady Oonagh, their world is shattered forever. He becomes bewitched by an evil sorceress who casts a wicked spell on the brothers and Sorcha is the only one who can break it by completing a set of the most difficult tasks a person could undertake.
There is just so much more involved such as the historical aspects set on both sides of the Irish Sea, the religious aspects such as the  old Druid and Christian cultures and the beautiful, lyrical way the story itself is told. But i think what captured me and what i loved the most about this beautiful story was the old beliefs people of Erin believed in before the Christian beliefs slowly spread. The Fair Folk are a big part of this story although they remain in the background, in the shadows of the book, yet the reader ultimately knows that they play a major role in the characters lives. They are shrouded in mystery and create the perfect picture of the magical Ireland we all love to love.
So that's it for now… I won't discuss the other books as i haven't finished the whole series yet but let's just say i feel so sorry for this family. The rest of the books are about the next generation of children and then the next.. and the Fair Folk are forever spinning their webs… as well as the Lady Oonagh!
"Our strength comes from that magic, from the earth and the sky, from the fire and the water. Fly high, swim deep, give back to the earth what she gives you…" 
― Juliet Marillier, Daughter of the Forest


"You will find the way, daughter of the forest. Through grief and pain, through many trials, through betrayal and loss, your feet will walk a straight path." 
― Juliet Marillier, Daughter of the Forest

READ IT! x